BikeVillage is brought to you by Sam, Ollie, Serge, Kerry, Rocket the dog and many more lovely friends and colleagues.
Sam
I have been riding in the valley all year for 23 years, even guiding fat biking rides on the snow through the winter. I've clocked up several million vertical metres of singletrack in this time. This means that I know more sweet trails than you could shake a stick at!
I was also the founding president of the European Organisation of MTB Instructor-Guides. Our main project is the creation of a standardised European MTB Guide training scheme.
So when you wonder what I do in winter, a big part of the answer might be less exciting than you were expecting!
The Team
Yvan is a living legend in the world of French bike guides and instructors. He was one of the first qualified guides in the country, back in the early 2000s, and still works training guides in countries all over Europe to this day. He might be quietly spoken but the calm way he shares his passion for the mountains is a joy to share. He also loves pulling endless manuals down any slope that permits!
Kerry and Serge are your amazing hosts. Their guesthouse, Maison Caramel, is a truly beautiful idyll in the mountains. Best of all though is the love and passion that they pour into looking after every aspect of your stay with BikeVillage. They really do care as much about your comfort and appetite as Sam and Ollie do about your riding. Between us we'll spoil you rotten!
Rocket keeps her bum clean and gets credit for it. Oh to be a dog.
How did you guys get started?
A brief history of BikeVillage – 21 years and counting!
1999-2005
1999 We dreamt up BikeVillage during the late nineties. We were two bicycle guides working in Colorado who spent much too much time in micro breweries getting pissed and talking shite. The fruits of our ramblings later became known as BileVillage.
2000 Trail exploration began in 2000 and in Spring 2001. Amidst lots of foot and mouth in the UK, we (Sam and Stu) packed our (t)rusty Transit van to the roof and headed for the Alps. For summer 2001 we ran BV from a rented chalet in Bourg St Maurice. The staff sleeping quarters was the battered transit van –  even the local tramp used to laugh at us despite the leftovers we fed him! The summer was a great success for all save our wallets and our immune systems. Everyone loved the riding and with more and more of our trails centering around the pretty village of Landry we began the hunt for BV Towers…
2001 A 280-odd year old farmhouse with an enormous garden and a sweet trail finishing in said garden… that'll do nicely! By 2005 word had got around enough that we had our first full season, with over 2/3 of the riders on their second (or third, fourth and fifth…) BV trip.
2005 Rather than try to expand the BV empire, we chose to dedicate ourselves to making the holidays better for the guests that we had. We still take just 14 guests a week so that we can lavish a lot of care and attention on you.
2005-2010
In 2007 an extra member joined the team when Lyndsey gave birth to Addie, who was followed in 2009 by Rowan and again in 2011 by her sister Théa. Sam's dream of a family team at Relentless comes ever closer to fruition!
2008-2012 The BV house was getting cramped, what with (the ever expanding) Team BikeVillage living upstairs and all. The old wreck that overlooked the garden was sitting empty though. How hard could it be to get another mortgage in the middle of a global financial crisis? And then build a house on your own during alpine winters down to -23 degrees? Moving out of the BV house let us open up more bedrooms and bathrooms, upping the comfort level another notch whilst keeping the number of guests the same – everyone's a winner!
2010 It all seems to work too darn well – Summer 2010 was our proper, official, all grown up 10th anniversary! Some guests were back for their 12th visit in that time.
2010 In Autumn 2010, we finally reached F-list celebrity! The lovely Mark Huskisson of Reset Films released his long awaited sequel to Home, titled Find. Featuring a segment shot with Sam and former guide Rich. Both have since also featured in the 'spotted' pages of Heat magazine 😉
2010-2015
Another filming session in July 2013 with Mark led to a cute wee clip on Bikemagic, filmed up in the Beaufortain on a trail called Little Cheese.
2014- Vive la France! I was (I think) the first Brit to qualify under both the British and the newer French BPJEPS schemes. It was a long haul of hopping onto palettes, making kids ride around cones and generally sucking eggs with Granny. I met some great friends along the way and the process led to some big developments in bike guiding across Europe.
2014 Vive l'Europe! In September 2014 I was invited along to a congress of mountain bike guides and training bodies from across Europe. We all agreed that the profession needed to be represented on a European level to really help increase it's profile and professional standards within it. Somehow, I was voted president of the resulting European Organisation of MTB Instructor-Guides. Amusingly for any BV guests who know me well, this makes me one of the most senior figures in MTB guiding in Europe. Don't worry though, I still sniff my own farts.
2015 This is also the birth of our Mountain Biking Consultancy ServicesMountain Biking Consultancy Services. It would be a shame to waste all that experience!
2016-2020
2016 AlpPacker Planning – Sam's long term dream of setting up a singletrack itinerary right the way down through France in time for his 40th birthday got a boost. It turned out BV guide Huw Oliver shared a similar dream. Point-to-point from Geneva right down to the south coast. Get ready for the AlpPacker!
2017 March 2017 sees the launch of the Bikevillage Tour Series – a collection of epic BV trips to new destinations. We kick off on Réunion Island in the middle of the Indian Ocean, on an active volcano. How's that for style?
2018 AlpPacker NorthAlpPacker North is go! Our iconic point-to-point adventure launches and becomes an instant classic.
2019 AlpPacker SouthAlpPacker South joins the party – the itinerary now runs from lake Annecy all the way to the south coast.
2020 on…
2020-2021 We combine all the shit stuff – Covid hits, we survive. Sam and Lyndsey separate. The BV house gets sold. Covid hits again! We survive again. Rolling with the punches becomes a way of life…
2021 Kerry and Serge join the BV team with their guesthouse, Maison Caramel. A beautiful partnership is born
2022-2023 the new normal sets in, we're all vaccinated and we all get to go on biking holidays, YESSSS!
Bikes have gotten so much better since we set up all those years ago! Here's a quick run through of Sam's steeds since the beginning:
1993-2006 Litespeed Obed Ti Frame
eventually topping out with some SID XCs with 80mm travel… If I was a Viking this is the bike I'd be buried with.
2006-2008
Rocky Mountain Blizzard with Pikes upfront. A ground breaking 'hardcore' hardtail at the time. I snapped the frame and the warranty replacement was wrong size so I sold it to a man trying to break the round the world biking record.
2009 Bionicon Golden Willow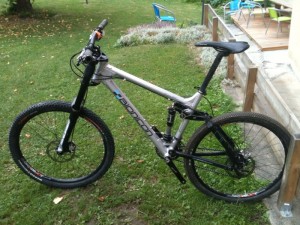 This monster was nicknamed the Golden Shower. It was a marvel of teutonic engineering, but not aesthetics… Still, the adjustable geometry was super-interesting to play around with. It was sold in a bidding war between 2 men called Dieter on German e-bay.
2010 Ragley Mmmbop
I went back to a hardtail and what a bike! It's still kicking around as the pump-track bike. It feels way too small now but perfect for some laps in the garden.
This was such a fun bike! It's 'pop' out of corners was addictive. I was gutted to sell it but at least it went to a happy BV guest!
2013 Liteville 301
Sensing that 26″ wheeled Fives were out of time (I was right, 650b version released 3 months later!) I tried to future proof myself with a Liteville 301 that takes 26″ or 650b wheels. Less lively than the Five but climbed better and descended very fast indeed. It's also very light, running a niche as 1×10 set-up with a converted 11-40 cassette and a fat-thin chainring so no chain guide. For a year there I was ahead of the technology curve…
2014 Orange Five Alpine
Having test ridden and loved another BV guide's Five 29er, I was smitten. When Orange showcased their new Alpine Five build up at the Peebles Enduro World Series event, I sent one of those expensive emails…
2016 Whyte T-130 Works
Whyte's bikes were just too damn good to ignore so 2016 saw me hit the poppiest, most flickable and fun bike thus far built – the T130. Relatively modest in travel but punching well above its weight in geometry, the T-130 and its big brother the G-160 are perfect alpine trail bikes.
2018 Whyte S-150
I'm a 29er fan and have been since the Orange Alpine days. The S-150 is flat out the most versatile all round bike I have ever ridden. It just doesn't do anything badly at all. Bumped up to 160mm travel up front, it has taken me through all sorts of tough enduros all over the world.
2021 Starling Murmur
Whyte have sold out of bikes for 2 years. Thanks again Covid! Not wanting to guide the whole summer on my hard tail, attention soon turned to something a little different… Single pivots are fun. Handmade bikes are beautiful. Handmade steel bikes are super beautiful. The Starling Murmur is drop dead gorgeous. Luckily it's super-fun too.